Vastu Consultant In Delhi-India
Vastu consultant Sunil Mehtani says that Vastu is nothing but maintaining harmony with nature and themselves. Maha Vaastu shastra experts say if Vaastu principles follow correctly, you live smoothly or face some problems. At MVS, which is constantly giving its Vastu services in Delhi NCR and India. If you need any kind of Vastu-related services, You can have the best Vastu consultant in Maha Vaastu Shastra.
As per Vastu consultant in Delhi NCR & India, if you wish to solve all problems of your life. Or if you wish to cancel all negativeness around you. Or if you wish to run a business in a positive and healthy environment, If yes, then Vastu consultant of Maha Vaastu Shastra is the best choice for you. Vastu Consultant Sunil Mehtani is one of the most skilled, qualified, and knowledgeable famous Vastu consultants primarily based in Delhi, Delhi-NCR. He is a professionally qualified Vaastu Consultant from Bhartiya Vidya Bhawan (Delhi).
Vastu Consultant Sunil Mehtani is a specialist, a professional Vastu consultant, and a qualified astrologer. He's an expert in analyzing current situations and then predicting their consequences. He uses his proficiency in balancing the energies in homes, offices, Industries, etc., without any possible significant amendment in structures, i.e., without demolition.
Consulting Vaastu
If you're consulting Vaastu, the selection of site, architecture, civil engineering, landscaping, and astrology are inevitable parts of Vastu Shastra. Vastu expert Sunil Mehtani has over Sixteen years of expertise in Architects and engineers Firm. He is always ready to help his clients to lead a prosperous, happy, more purposeful, and harmonious life.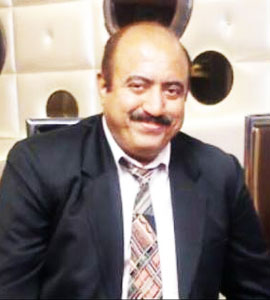 Vastu Consultant Sunil Mehtani
M.Com ICMA(Int)
Jyotish Alankar(Bhartiya Vidya Bhavan)
Jyotish Acharya(Bhartiya Vidya Bhavan)
PGDVSM (Vaastu)
Vaastu Bhusan(Bhartiya Vidya Bhavan)
Vastu Vachaspati (Advance) (Bhartiya Vidya Bhavan)
Vaastu Professional & Researcher under great Astrologer Sh. K.N. Rao
His splendid vision and ability to analyze the energies quickly empower him to relinquish the solutions to his clients' queries. Vastu consultant Sunil Mehtani has a vast clientele, including business professionals like Chartered Accountants, Engineers, Software professionals, Builders, etc. They use his Vastu services in Delhi, Delhi-NCR, i.e., Noida, Greater Noida, Gurugram / Gurgaon, Ghaziabad, Faridabad, etc.
With technological advancement, Vastu consultant Sunil Mehtani also provides his services outside India. His clients are the people who are benefited from his Vastu services, primarily based in Canada, Dubai, Australia, the UK, and many more. They approach him through email by providing maps, pictures, online videos, and many more ways.
As we know, Vastu is a Vedic science. And according to the Vastu consultant of MVS, Vastu Shastra defines its impact o individuals, and Vastu also defines the laws or methods to live with nature. Vastu consultants in Delhi, Ghaziabad, Noida, Faridabad, and Gurugram, India, exactly have a number of years of experience in giving tips or guidelines that define how to live as per the rules of Vastu Shastra.
Online Vastu consultancy
We provide you with quick, accurate online Vastu consultation. Online Vastu consultancy is for clients who are far away from us. This is sometimes not possible for our clients and us to meet personally due to long distances or lack of time or money. In this case, we are just a phone call away from you.
You will need to provide us with your property's layout plan/ drawing by different digital means of communication. Vastu Consultant will give you the best Vastu solutions and remedies online.
Offline Vastu consultancy
You can meet our Vastu expert to get the solutions to your queries. Mr. Sunil Mehtani, the best Vastu expert, provides you with the best Vaastu-related solutions. You may fix an appointment with him. In that personal Meeting, Mr. Sunil Mehtani discusses the layout plan directions of your property and its surroundings with you. He analyses the problem and then will provide you with the best appropriate Vastu solutions to your problems.
Site visit Vastu consultancy
As you know, the Vastu Shastra is an ancient Indian Science of architecture and buildings. So it is always best to visit the building/site by an expert Vastu consultant for your Vastu-related problems. Also, if you don't have the layout plan /drawing of your property, no need to worry. Mr. Sunil Mehtani is proficient in making the layout plan himself immediately there on-site.
Vaastu Expert & Astrologer Sunil Mehtani visits the site using different architectural tools like a compass, digital measuring meter, etc. On the site, an accurate assessment of the land will be done. The problem will be analyzed, and accurate, reliable solutions will be provided by him. He will provide you with some urgent and immediate remedies also.
A complete and detailed Vastu report will also be given within 3 to 5 days.
Fix a meeting with Vastu Consultant
If you would like any service from Sunil Mehtani, you'll fix a meeting with Vaastu consultant Sunil Mehtani regarding consultation and discussion on any Vaastu related queries like selection of plot, layout set up, maps, Vastu for flat, Kothi, farmhouse, office, shop, factory and all other residential, industrial as well as industrial properties. Our Meeting could also be held at our workplace or at your place.
Each such meeting shall be a paid assignment and therefore the charges shall depend on the related factors :
Pre-construction Vastu Consultation
Size & Location of Plot.
Nature of the Service/ Project
Size of the whole plot area and therefore the built-up space
Post Construction Vastu Consultation ( Vastu Remedies / Vastu Services)
You can additionally take on-site Vastu tips for an already constructed site like Vastu for a flat, Kothi, farmhouse, shops, factories, offices etc.

In order to arrange a meeting please send your message through our "Contact us form" or You may directly call famous Vastu Consultant Sunil Mehtani on 9810105005 for having best Vastu tips or Vastu guidelines in Delhi & NCR, Noida, Gurugram, Faridabad, Ghaziabad (India).
You may contact Maha Vaastu Shastra, If you want to consult for home Vastu, Residential Vastu, Commercial Vastu, Industrial Vastu, Office Vastu, or Vastu for Shop etc in Delhi, gurugram, Vastu in ghaziabad, Vastu in Faridabad