Vaastu for Shop
You must follow the Vaastu principles for shops while starting business via shop. According to Maha Vaastu Shastra experts Lord Kuber lives in North direction, if blockage exist in this direction then the result is negative for your wealth and prosperity. Our vastu consultant for shops say's if it not possible to remove blockage in north direction then you can place aquarium or a small fountain towards the north of the house as a good remedy.
And very important thing that our vaastu consultant for shops say's is sales man or owner of shops sitting face if direction is south or west it can be caused for loss and trouble. And if shops are in the public market and face of shops is south and other shops opposite to these shops then according to maha vaastu shastra expert shop not create trouble.
Maha Vaastu Shastra Consultant will provide following guidelines for Vaastu for Shop in delhi & ncr India :-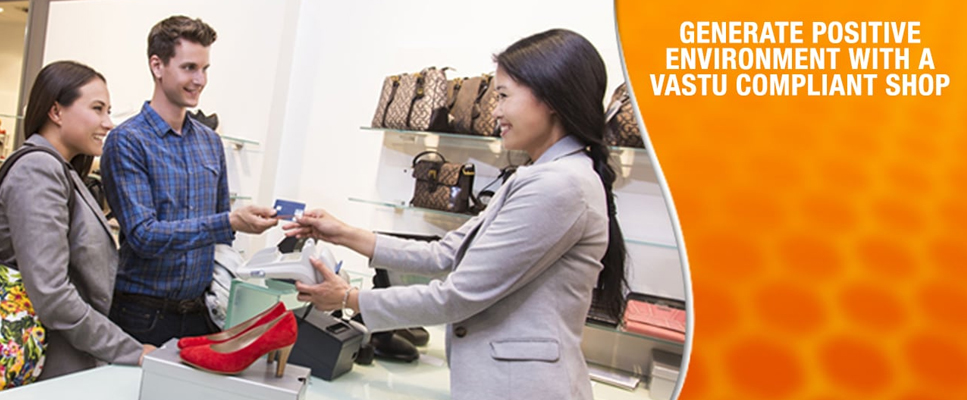 Vastu Guidelines for Vaastu for Shop

Singhmukhi or Shermukhi shape is auspicious and beneficial for shop or commercial purposes.
Gaumukhi shape for the shop is not auspicious for business purposes.
Rectangular or square shapes are good and auspicious for shops and commercial office.
Shops or commercial offices having a triangular shape, irregular shape, extended at the comers (other than the North-East comer) are inauspicious.
Slope towards the entrance is also inauspicious. It makes the profits unstable.
keep clean and attractive Floor of the shop or business concern.
It is auspicious to install the idols of god Ganesh and Goddess Lakshmi on the right-hand side or in North- East comer.
Mark any auspicious symbol like Swastik and write some auspicious words such as 'Shubh-Labh' 'Riddhi-Siddhi on the wall in the shop. Place the Cash counter facing North. Never keep the Cashbox blank or empty in any case.
Prayers must be offered in the morning and evening, with lighting a lamp and incense-stick (Agarbatti).
Presence of a tree or pole etc. in front of the shop causes Vedh, which is inauspicious. It creates problems and disturbances in the business, such Vedh should be avoided.
Keep light items in the North-East portion of the shop. Heavy items should be kept in Southwest portion.
It is auspicious to keep the North-East comer empty or reserved for the worship of God.
Maha Vaastu Shastra consultant understand that for every shop's owner cant't reach to the vastu experts oe vastu consultant. It may be behind that many of reasons exist. But to run shop smoothly and financial things continuously keep on going it's necessary thats they should follow the vastu principles of shop. Maha Vaastu Shastra experienced vastu consultant say's there are many tricks, vastu tips and vaastu techniques available which can be used by shopkeepers.
Keywords : Vastu for Shops, Vastu for Business, Vastu Tips for Shops, vaastu for shops, vastu tips for shop, vastu consultant in delhi, vastu colours for shops, vaastu tips for shop, vastu shastra tips for shops, vastu shastra in shops, vastu for shops desk Vastu Tips for Business, Vastu in delhi & NCR India
View our locations around the world and find contact details for your nearest office.
You may contact us by filling in this form any time you need professional support.
Join the world's largest consulting organization with a unique position .